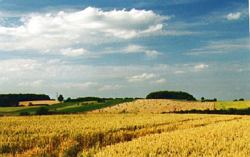 On a green hill I was standing
Trees, meadows and farm grounds
lay as a creased blanket in the sunlight
A butterfly moves from flower to flower
Birds compete for the most beautiful song
I was reminded of the fact that little things
can give me such an intense feeling of happiness


Centre Buirefontaine is a place to unwind, to spend some time on yourself and to escape from the rushed life back home.
It is a good place for groups to do courses or workshops, on dancing, tai-chi, yoga, meditation, painting and sculpting, etc.
As an individual you are of course just as welcome to come and relax with us.
When we discovered this place it felt so good that we decided this was our big challenge in life.
After more than two years of renovating we are now proud to be able to offer the accommodation for others to enjoy. And all in a personal atmosphere and green surroundings.
We look forward to meeting you through inspiring courses, interesting workshops and educational theme weekends.

Centre Buirefontaine
4 Hameau de Buirefontaine
02500 AUBENTON
+ 33 323 97 8536